SIMBL HISTORIC MOMENTS 2005-2008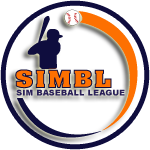 Official Birth Of The SIMBL: 9/2/2006
SIMBL Inaugural Draft: 9/17/2006-10/17/2006
2005 SIMBL Season: 10/18/2006-12/27/2006
2006 SIMBL Season: 1/22/2007- 4/4/2007
Website Crash: 4/15/2007-4/22/2007
2007 SIMBL Season: 5/5/2007-7/16/2007
2008 SIMBL Season: 8/6/2007-10/17/2007
2009 SIMBL Season: 10/31/2007-1/19/2008
2010 SIMBL Season: 2/2/2008-4/20/2008
2011 SIMBL Season: 5/2/2008-7/10/2008
2012 SIMBL Season: 7/21/2008-9/29/2008
2013 SIMBL Season: 10/13/2008-12/27/2008
2014 SIMBL Season: 1/10/2009-3/28/2009
2015 SIMBL Season: 4/11/2009-7/11/2009
OOTP 6.5 To OOTP 10 Conversion 8/1/2009-9/1/2009
2016 SIMBL Season: 9/2/2009-12/18/2009
2017 SIMBL Season: 12/28/2009-3/5/2010
2018 SIMBL Season: 3/22/2010-5/29/2010
OOTP 10 To OOTP 11 Conversion
SIMBL New File Era Inaugural Draft: 6/25/2010-7/15/2010
2019 SIMBL Season: 7/26/2010-10/10/2010
2020 SIMBL Season: 11/3/2010-1/11/2011
2021 SIMBL Season: 2/2/2011-4/22/2011
SIMBL Commish Accident & Recovery 4/23/2011-5/5/2012
2022 SIMBL Season:  5/6/2012-7/16/2012
2023 SIMBL Season: 8/4/2012-10/5/2012
OOTP 11 To 13 Conversion 10/5/2012-11/24-2012
2024 SIMBL Season: 11/29/2012-2/11/2013
2025 SIMBL Season: 2/25/2013-5/2/2013
2026 SIMBL Season: 5/17/2013-7/24/2013
2027 SIMBL Season: 8/10/2013-10/17/2013
2028 SIMBL Season: 10/31/2013-1/4/2014
2029 SIMBL Season: 1/18/2014-3/26/2014
2030 SIMBL Season: 4/9/2014-6/15/2014
OOTP 13 To 15 Conversion 6/22/2014-6/27/2014
2031 SIMBL Season: 7/5/2014-9/8/2014
2032 SIMBL Season: 9/24/2014-12/14/2014
2033 SIMBL Season: 1/9/2015-3/17/2015
2034 SIMBL Season: 4/10/2015-Current
Key moments in SIMBL history are listed below:
NOVEMBER 2, 2008
2008 PLAYOFFS TO GO DOWN AS BEST EVER?
5 Of 7 Playoff Series Are Classic Seven Game Thrillers; New York-Ashville SLDS One For The Ages; Heavy Favorites Knocked Off In Upsets
T-JACKS COME BACK FROM 3-1 DEFICIT TO WIN 2008 SIMBL CHAMPIONSHIP!
GM Deuel's Cinderella T-Jacks Complete Worst-To-Champions Ascension; Win Three Straight After Facing Elimination To Take '08 SIMBL Title Away From Texas
Pocatello teammates celebrate on their home Shoshoni Field after coming back from a three games to one deficit and winning the final three games of the 2008 SIMBL Covted Cup Championship Series against Texas. The T-Jacks completed a rebound from three straight last place finishes and lost 91 games last season en route to the 2008 SIMBL crown.
Texas veteran starting pitcher Merrill Sanger (above right) hangs his head low as Pocatello's James Mahaffey circles the bases after giving up the first of Mahaffey's two Game 7 home runs as Texas let go of a commanding 3-1 series lead losing the 2008 SIMBL Championship Series to the Timberjacks in seven games.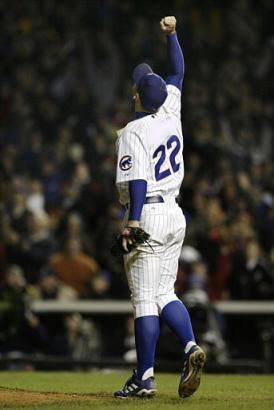 Pocatello reliever Silvio Sachs (above) points to the heavens after getting the last out of the Timberjacks' Game 7 6-1 victory at Pocatello's Shoshoni Field starting a celebration throughout the night in Idaho celebrating the T-Jacks' 2008 SIMBL championship over Texas.
The Pocatello Timberjacks of GM Zach Deuel completed their worst-to-champions ascension from last season in grand style. With the amazing season that they have had, why would it have been any other way?

The T-Jacks, facing elimination down three games to one going into Game 6 of the 2008 Coveted Cup Championship Series, won their final three games to stun Texas GM Pat Flanagan's Roadrunners and become the 2008 SIMBL Champions.

Deuel went out after former Portland two-time All-SIMBL centerfielder James Mahaffey at this season's trade deadline winning the bidding war among several teams with Portland. Many SIMBL pundits believed that Deuel gave up too much in a bumper crop of top prospects in acquiring Mahaffey at the time. Mahaffey had a solid, if not spectacular rest of the season in Pocatello to flame the SIMBL critics well-winded fires.

Mahaffey, the 5th overall pick of the Inaugural SIMBL Draft in 2005, also was lukewarm in the Coveted Cup until he erupted in Game 6 and Game 7. Mahaffey went 6 for 9 in both games with 4 runs scored, two home runs and 4 RBI in helping the T-Jacks to the first SIMBL title outside San Diego. Mahaffey went 3 for 5 with a RBI in Game 6 and he went 3 for 4 in the clinching Game 7 blasting two home runs and driving in 3 runs. He won Player Of The Game honors in both games. Mahaffey finished the 2008 Coveted Cup Championship Series going only 8 for 28 but batted .316 with 5 HR and 14 RBI in the Timberjacks playoff run.

Deuel signed "The Rascal" Mahaffey to a $96,000,000 contract extension shortly after the trade giving him $16,000,000 a year for six seasons ensuring that Mahaffey will be roaming centerfield in Idaho for the forseeable future.

Rightfielder Matthew Skinner came one RBI shy of tying San Diego's Kenny Blumberg's 2005 postseason record of 26 RBI. Skinner, capping off an unbelievable year, hit .395 with 2 HR and 25 RBI in leading the T-Jacks to their improbable title run. Skinner went 11 for 27 with 6 RBI in the '08 Coveted Cup Series.

Even more impressive than Skinner and Mahaffey for Pocatello was SP Celso Larios. The 28 year-old went 6-0 in the playoffs with a miniscule 1.99 ERA. Larios went 2-0 in the Coveted Cup throwing 14 innings, allowing 14 hits, 2 runs, 2 earned runs, 1 walk and 8 strikeouts. Larios was named the 2008 Coveted Cup Championship Series MVP by winning two of the T-Jacks four games in dominating fashion.

"We are thrilled to give the dedicated fans of Pocatello, Idaho a SIMBL Championship ring," said an exhuberant Deuel while celebrating on Pocatello's Shoshoni Field, home field advantage in Game 7 earned by a UL All-Star Game victory in July. "These fans stayed faithful during our down times and are still with us now, " he concluded.

Pocatello finished with the worst record in the SIMBL in 2005 and 2006 earning the first pick in the following season's drafts both years. Deuel stayed patient and calmly built a young talented team in the process of three consecutive 90 + loss seasons. The T-Jacks went 65-97 in 2005, 62-100 in 2006 and 71-91 last season before playing Cinderella this season after adding some quality veterans to their young nucleus.

SP Roland "Chunky" Clark, he of the disputed $20,000,000 a year contract he signed with Augusta GM Steph Mabie, was rocked throughout the playoffs for Deuel. Clark turned that around in Game 6 by throwing 6 innings allowing 3 runs on 4 hits and striking out 10 Roadrunners. Clark finished the postseason with a 1-3 record and a 6.53 ERA but came through when he was needed by his new teammates.
Clark's Game 6 performance was indeed surprising. The once-dominating 2006 UL Ingame Hurler Of The Year, has been one of the well-known postseason busts in the SIMBL in the past. In 14 career playoff starts with Augusta and Pocatello, Clark has gone 4-8 with a 5.54 ERA. Clark took a lot of criticisim from SIMBL pundits after being pounded twice by Calgary in the 2006 ULDS and has been putrid at best during the postseason in his career. Clark was the 8th overall pick of the Inaugural SIMBL Draft and led Augusta to three straight postseason appearances from 2005-2007 for Spartans GM Steph Mabie.
In the end, the questioned pickups of Clark and Mahaffey gave a young and maturing Pocatello ballclub the veteran leadership it needed to claim a title as both were instrumental in the finale.
The 2008 SIMBL postseason will go down as the best and most exciting playoffs in league history. Five of the seven playoff series went to seven games. Pocatello defeated Augusta in the ULDS and Texas in the SIMBL CS in seven game thrillers.
New York and Asheville played a classic and thrilling 7-game 2008 SLDS in which each game was pitch-for-pitch and out-for-out. New York SP Michael Arnett and Asheville SP Owen Loper had two classic pitchers duels in Games 3 and 6 and New York won the series despite scoring only 17 runs in 7 games in a series that will go down in SIMBL history as one of the best playoffs series ever.
OCTOBER, 2008
ALL THREE 100-WIN GIANTS SLAYED!
Pocatello, Brooklyn & Texas All Pull Off Monumental Upsets In '08 LDS; It's Timberjacks Vs.Cyclones In ULCS & Roadrunners Vs. Enforcers In SLCS As Three Of Four LDS Go Seven Games
2008 First Round Playoffs Go Down In SIMBL History As One Of The Best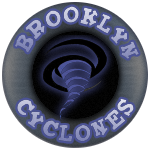 GM Pat Flanagan's Texas Roadrunners celebrate on the road after knocking off the three-time defending SIMBL champion San Diego Warewolves of GM Paul Ware in the 2008 SLDS. The Roadrunners were heavy underdogs and won the last two games of the series after facing elimination in Game 6.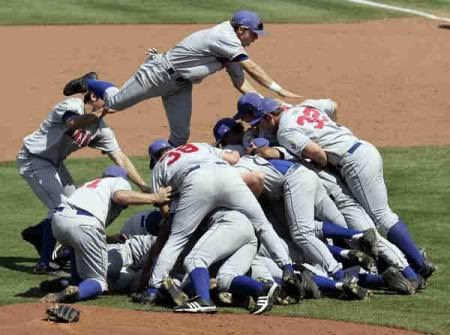 The Brooklyn Cyclones celebrate on the road in Calgary's Victors Field their upset of the 109-game winning Clippers in the ULDS. The Cyclones of GM Rick Magar won three straight against the Clippers of GM Christian DeMarco to knock off heavily-favored Calgary and advance to their first ULCS in team history against Pocatello.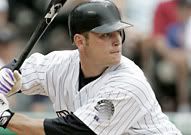 Brooklyn rookie 1B Michael Giroux (above) has been one of the top-rated prospects in the SIMBL for most of the last four sesaons and he showed why in the Cyclones' ULDS victory over Calgary. The recently called-up Giroux batted a robust .417 with 3 HR and 9 RBI in the series to earn ULDS MVP honors. Giroux's performance may be an indication of what is to come in future years for Cyclone foes.
Pocatello's Cinderella season continues as the Timberjacks of GM Zach Deuel savor the moment of their ULDS Game 7 victory with their GM somewhere in the pile in the barren Bobby Jones Memorial Stadium on the road in Augusta. The T-Jacks knocked off GM Steph Mabie's favored Augusta Spartans in seven games to advance to their first ULCS after losing 90+ games the previous three seasons.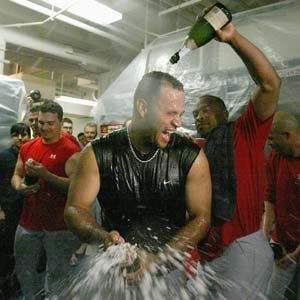 New York Enforcers teammates douse SP Peter Calvillo (above) with celebratory champagne after winning an exhausting and thrilling seven-game series against Asheville. GM Steve Marshall's troops advance to their second consecutive SLCS and will try to advance to their first SIMBL Coveted Cup Championship Series against Texas. The Enforcers' series against GM Tom Lifsey's Smokies will long be remembered as one of the classic run-for-run pitch-for-pitch playoff series in SIMBL history.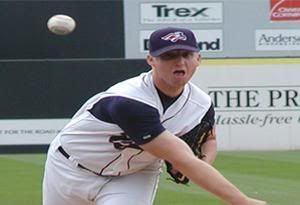 New York's amazing veteran ace Michael "Ace" Arnett (above) continues to have a Hall Of Fame 2008 season. After going 23-4 with a 1.89 ERA and setting new SIMBL records for wins, ERA and WHIP in a season, Arnett continues to blaze for the Enforcers in the playoffs. Arnett matched Asheville's Owen Loper pitch-for-pitch in two classic pitcher's duels with the former Pensacola Red Sox hurler. Arnett won SLDS MVP honors by throwing 13.2 INNINGS OF 0.66 ERA ball while striking out 18 in two very important brilliant performances to save New York from two equally brilliant outings from Loper.
What a start to the 2008 SIMBL postseason! SIMBL playoff history was made as all three 100-win heavy favorites and two-top seeds were upset with perhaps the biggest upsets to be in SIMBL history. Also, the first round of the 2008 playoffs featured one of the best playoff run-for-run pitch-for-pitch series in SIMBL history with the Asheville-New York SLDS in which New York scored only 17 games in the seven games yet won the series. New York SP Michael Arnett and Asheville SP Owen Loper had two classic pitch-for-pitch matchups. In the 2008 Pocatello-Augusta SLDS matchup, three of the seven games went into extra-innings. All together, the 2008 first round of the LDS went down in SIMBL history as some of the best postseason series in SIMBL history!

All three heavy favorites and the three teams that won 100 games or better in the 2008 SIMBL season were taken down. Three of the series went to exciting seven games and the wildcard entries in both the UL and SL took down their top-seeded foes.

There will be a new SIMBL Coveted Cup Champion this season as the three-time defending champion San Diego Warewolves of GM Paul Ware were upset by GM Pat Flanagan's Texas Roadrunners in the SLDS. Texas advances to their first SLCS as the SL wildcard and won the last two games of the series on the road to stave off elimination in Game 6.
Ware conceded in a postgame interview with SIMBL media stating, "This is like a swift kick to the balls. Much like Stanford upsetting my beloved USC Trojans. It's been a very bad week for me but I wish Pat and his Roadrunners the best of luck and for Texas or New York to keep the SIMBL Coveted Cup trophy where it truly deserves to be and belongs, in the Syndicate League baby!"
Asheville and New York played a classic run-for-run series with New York GM Steve Marshall's Enforcers squeaking by GM Tom Lifsey's Smokies in Game 7. The series featured one 14-inning exciter and one ninth-inning win and scores of 5-2, 4-2, 2-1, 5-2, 4-2, 1-0, 3-1 and a Game 7 2-0 nailbiter.
GM Christian DeMarco's 109-game winning Calgary Clippers were ousted by GM Rick Magar's Brooklyn Cyclones in the only series to not go the full seven games. Rebounding from a 2-1 series deficit, the Cyclones won three straight rather convincingly. Brooklyn pounded on Calgary's pitching for 34 runs in the final three games for 9-8, 12-3 and 13-8 wins and held the vaunted Calgary offense to 10 runs the last two games of the series.
DeMarco, who as SIMBL Commish witnessed fairness for the league and listened to the SIM live via telephone with SIMBL SIM Coordinator Ware, conceded, "Rick's team swiftly gave us a wake-up call. Yes, we may have underestimated them and had some of our stud players not play worth a shit when it counted. We'll definately remember this for next year and will be back for a ring shot. Congratulations to Rick and (Pocatello GM) Zach Deuel for 'slaying the giants' of the UL and for them to win the Coveted Cup for our league. Go UL!"
Pocatello GM Zach Deuel's Timberjacks continue their amazing rise from the ashes and defeated the Augusta Spartans of GM Steph Mabie, who went 100-62 in the '08 regular season, 6-4 in Game 7 of their ULDS. Another classic tight series with scores of 2-0, 6-4, 7-6, 4-3, 4-3 and 6-4 in six of the seven games. Three games in this series went into extra innings! The Spartans continue to be the hard luck team of the SIMBL as they are only one of two teams to reach the postseason every season in the last four years but have failed to bring home the ring each time.
OCTOBER, 2008
SAN DIEGO'S RYLES COMPLETES QUEST FOR FIRST SIMBL TRIPLE CROWN
New York's Arnett Sets New SIMBL Pitching Records
San Diego's superstar third baseman Daryl Ryles (above) has had a volatile SIMBL career both on and off the field but there is no disputing his legend. Ryles is the first player in SIMBL history to achieve a Triple Crown by hitting an amazing .354 with 69 HR and 172 RBI. Many SIMBL followers expect these new records to never be broken in the history of the SIMBL.
Love him or hate him is usually the case with San Diego's volatile and outspoken third baseman Daryl Ryles. But there is something now that Ryles' many detractors can't dispute now.

Ryles completed his personal quest for a SIMBL Triple Crown and set several batting records in 2008 that may never be broken.

When Ryles was selected with the #1 overall pick of the Inaugural Draft back in 2005 by Warewolves GM Paul Ware he promptly caused a stir when he paraded up to the podium and promptly declared, "I will set every power hitting record that will stand the test of time in the SIMBL."

Ryles won the rare Triple Crown by hitting a new SIMBL-record .354, breaking his old SIMBL record of .349 set last year that he shared with Bristol's Matthew Shaner. Ryles also hit a SIMBL-record 69 home runs and drove in an unbelieveable 172 runs. He scored a SIMBL-record 153 runs as well. Ryles is a heavy favorite to win his third SL Slugger Of The Year award in four seasons.

Ryles also set new records with a 1.246 OPS, .773 slugging percentage and a .473 on base percentage.

New York's Michael Arnett set a new SIMBL record with a 1.87 ERA. Arnett went 23-4 and tied San Diego's Felix Murff for most wins in a SIMBL season matching Murff's 23 wins last season. Arnett boasted a new SIMBL-record 0.84 WHIP and is a heavy favorite to win his second Hurler Of The Year Award. Arnett won the UL HOTY in 2006 for the former Atlantic City Aces (Newark Bears).
SEPTEMBER 29, 2008
CLIPPERS' GEORGE THROWS 5TH NO-HITTER IN SIMBL HISTORY
Calgary SP Avenges No-Hitter By Bend SP Lopez Earlier This Season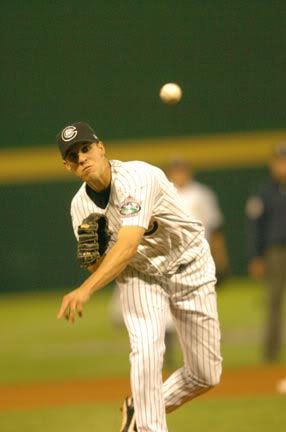 Calgary's Casey George (above) throws the last pitch of his no-hit gem of Bend in 2008 SIM 26. George became the 4th pitcher in SIMBL history to throw a no-no.
CALGARY - Bend's bats were sleeping, and Calgary's Casey George gave them no chance at all to wake up. He was untouchable in firing a no-hitter in his 35th game started this season. 'Well, the ball went where I wanted it. I was able to hit the corners with all of my pitches. I'm so happy that it was enough to pitch such a great game.' George (15-12) struck out 3 and walked 3, throwing 56 of 98 pitches for strikes. Jacob Northcutt provided Calgary with the offense George needed as he finished 2 for 2, with 2 RBI. The final score of the game was 4-0.
Earlier in the 2008 season, Bends SP Walter Lopez no-hit Calgary for the 3rd no-hitter in SIMBL history. George, Lopez and Brooklyn's Marcus Dinges have all thrown no-hitters in the 2008 SIMBL season.
The no-hitter gave George his 15th win of the season giving him three consecutive seasons of at least 15 wins or more for the Clippers.
SEPTEMBER 5, 2008
CALGARY'S GILMORE SETS NEW SIMBL SEASON HITS RECORD
SIMBL's All-Time Hits Leader Shatters Season Hits & Doubles Records; Sets New UL Runs Scored Record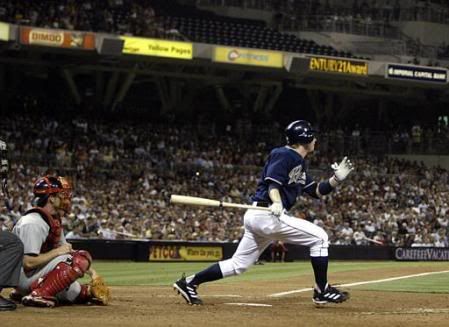 Calgary veteran centerfielder Willard Gilmore (above) watches his SIMBL-record 206th hit of 2008 leave the infield. Gilmore set a new season record for hits and doubles and is quietly having a historic season for the Clippers. Gilmore has 23 games to add to his season hit record and also break San Diego's Daryl Ryles' and Bristol's Matthew Shaner's .349 season batting average record as well.
In 2008 SIM 23, Calgary's veteran hitting machine centerfielder Willard Gilmore shattered the record for most hits in a season by a player. Gilmore broke the former record of 205 set by Bristol's Robert Campbell in 2007, Belle River's Pedro Arevalo in 2006 and Boston's Dominick Lund in 2006.

Gilmore is quietly having a historic and UL MVP-caliber season as he is also chasing San Diego's Daryl Ryles' and Bristol's Matthew Shaner's season batting average record of .349. Gilmore has hit above .360 all season long and currently sports a .357 batting average with 10 HR and 73 RBI and 32 steals as the UL Central-leading Clippers leadoff man and catalyst. Gilmore has also hit a SIMBL-record 58 doubles this season and leads the UL in extra base hits and total bases. He has also set a new UL record with 121 runs scored and counting. He sports a .921 OPS (5th in UL) and a .516 slugging percentage (7th in UL), which is impressive as he is not considered a power hitter with a "4" power rating but yet has outslugged some of the best power hitters in the UL and the SIMBL this season.

Gilmore was originally a 5th round draft pick by original Oregon GM Tom Hickman in the 2005 SIMBL Inaugural Draft. He was traded to Calgary along with top SP prospect Jamie Coop for RF Buster Tate, MR Justin Monks and a #1 draft pick in 2007. Tate and Monks have had solid years for Pioneers GM Mike Senn and have been instrumental in the Pioneers challenging for a SL wildcard playoff berth.

"We congratulate Willard on his historic achievement in this league. He has 211 hits and still has 23 games to play. Since we acquired Willard last season at the trade deadline, he has been nothing but a leader and an All-SIMBL type talent on this team. He has, quite frankly, changed the whole attitude of this ballclub since he has arrived and has been the catalyst of our offense without question," said Calgary GM Christian DeMarco, whose Clippers have taken over the SIMBL's best record at 90-49 in SIM 23 by reeling off seven straight wins.

On a team already powerfully loaded with the best offensive lineup in the SIMBL, Gilmore's arrival seemingly made their offense unpenetrable as they added one of the best contact and average hitters in the league. Gilmore also gave the Clippers a needed high-on base percentage leadoff hitter who could steal a fair number of bases as well.

Impressively, Gilmore has had 57 multiple hit games this season including 30 two-hit games, 18 three-hit games, 6 four-hit games and 3 five-hit games.

Gilmore also leads the SIMBL in career hits with 746 and sports a .311 career batting average. Gilmore also amassed 197 hits for Oregon in 2006 and won a Gold Glove in centerfield for the Pioneers that season as well. He is on pace for a unworldly 246 hits this season with 23 games to play.
AUGUST 21, 2008
BROOKLYN'S DINGES THROWS UNPRECEDENTED SECOND CAREER NO-HITTER
Only 22 Years Old, Dinges Has Two SIMBL No-No's In His Pocket
Brooklyn's young SP Marcus Dinges throws the last pitch of his second career SIMBL no-hitter against Marin in 2008 SIM 21. Dinges threw his first no-hitter as a rookie in 2006 and joins Bend's Walter Lopez and New York's John McCasland as the only pitchers in SIMBL history thus far to throw no-hitters.
BROOKLYN - It was an unbelievable day for Brooklyn's lefty Marcus Dinges. The 22-year old pitched his second career SIMBL no-hitter against Marin on August 31, 2008 showing that he may have a great career in front of him. Glenn Knapp spoiled the bid for a perfect game when he walked with 2 away in the 7th inning. 'Wow, what a nice day. I guess I had a good breakfast today. That's a dream coming true for me!' Dinges (14-6) fanned 9 and walked 1, throwing 105 pitches. The hitting star for Brooklyn was second baseman Leroy Mankin, he stroked 3 hits in 3 AB, blasting a homerun, and driving in 3 runs. Brooklyn improved its record to 76-55, scoring 3 runs on 7 hits.
Dinges threw the first no-hitter in SIMBL history as a rookie in September, 2006 (see below). He joins Bend's Walter Lopez and New York's John McCasland as the only pitchers to date to throw a no-hit game in SIMBL history.
AUGUST 13, 2008
'WOLVES' RYLES BLASTS NUMBER 49 AND COUNTING TO SET NEW SIMBL SEASON RECORD
Bend Wakes Up To Win 12 Straight To Set New SIMBL Win Streak Record
Two long-standing records were broken in 2008 SIM 19 and the SIMBL record book will have to be altered. San Diego's Daryl Ryles broke the SIMBL's single season home run record formerly held by Belle River's Wilfredo Espana's and Marin's Maiku Inejiro. Ryles broke the former record of 48 with his 49th blast of the season against Charlotte on August 12, 2007. Ryles is enjoying a historic season and still has a 49 games to add to his SIMBL record collection.
Espana set the record of 48 blasts in the SIMBL's inaugural season of 2005. Inejiro, who also blasted 47 in 2005, also hit 48 in the 2007 season. Ryles also has 126 RBI's and is chasing to break Espana's record of 141 RBI in a regular season. Chicago's Eddie Meas is listed in the SIMBL record book with 142 RBI's in a season but his last four came in a one-game SL playoff in Game #163 when Jacksonville and Oregon had to play a tiebreaker in that 2005 season, so Espana is recognized as the record holder by the SIMBL League Office.
The Bend Bandits of GM Ted Williams have turned around what was being a horrendous season in Oregon and have set a new SIMBL record with 12 straight wins active through the August 13, 2008 SIM 19 league date. The Bandits won the UL as a wildcard in the first SIMBL season of 2005 and lost to San Diego in the first SIMBL Coveted Cup Championship Series. Since then, the team has faced adversity with 90 + loss seasons in 2006 and 2007.
The start of the 2008 season looked like the Bandits would also secure the first pick of next season's SIMBL Draft with the worst overall record but that has changed. Bend has swept Toronto, Newark and Brooklyn during their streak and breaks the former record of 11 straight held by GM Dave Burgess' Boston Patriots in 2005.
JUNE 29, 2008
BOSTON CLOSER CHOW'S SIMBL RECORD UNEARNED RUN STREAK ENDS AT 51 INNINGS
Blows First Save Of Season As Oregon Ends Historic Streak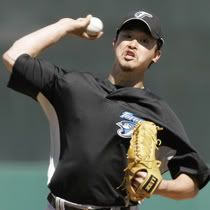 Boston's 10/7/9 rated closer Mathew Chow (above) has earned elite status among SIMBL firemen with 41 saves last season and a SIMBL-record 51.0 innings of unearned ball to start the 2008 season. Chow's historic streak ended in SIM 13 with a 6-5 loss to Oregon.
All good things must come to an end. But, it seemed like Boston closer Mathew Chow's unearned runs streak that started the 2008 SIMBL season would never end.
Chow went his first 51.0 innings this season without allowing an earned run to set a SIMBL record. On June 29, 2008, Chow allowed a two run single in the bottom of the 8th inning to Oregon shortstop Richard Cummings to allow the Pioneers to earn a 6-5 victory over the Patriots.
Chow is now 7-1 with a miniscule 0.34 ERA on the season as we head into the '08 All-Star break and goes into the SIMBL record book as the longest unearned streak in SIMBL history to date.
REAL LIFE DATE SEPTEMBER 2, 2007
SIMBL CELEBRATES FIRST REAL-LIFE YEAR ANNIVERSARY

League Of Solid GMS Celebrates One Full Year Already Of Real-Life Time Existence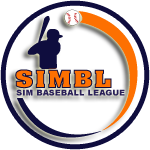 Well guys, it is true. We have quickly reached our first year of real-time existence. It was on September 2, 2006 that SIMBL Commissioner Christian DeMarco founded the league that we all are a part of. The 2005 Inaugural Draft started on September 17, 2006 and proceeded until October 17 and league play started on October 18, 2006.
We have gone through 3 1/2 seasons since then and have only grown stronger with the addition of some distinguished GMS that were added to our already solid core of charter GMs.
While some weaker leagues have folded due to a variety of unnecessary reasons, the SIMBL only continues to grow stronger and more competitive each day of each season, and in essence, more fun for all of our recreational passions.
It's been a great first year guys and we all look forward to the next year to be even a better ride all together with our SIMBL brethren.
Thanks to all SIMBL GMS and "SIMBLers" on a great and fun first year of league existence and the SIMBL looks to be around for a long time to follow.
Cheers guys. This beer is for you.
APRIL 14, 2008
PORTLAND'S MAHAFFEY SETS NEW SIMBL HITTING STREAK RECORD
"The Rascal" Shatters Sets New Record At 27 Straight Games
(PORTLAND)- The Portland Punishers' talented centerfielder James "The Rascal" Mahaffey has set one of the most hallowed records in the SIMBL in 2008 SIM 2.
Mahaffey's hitting streak reached 27 straight games before it was ended and reached back to last season. Mahaffey, the fifth overall pick of the 2005 Inaugural SIMBL Draft, has come under scrutiny from SIMBL pundits who have criticized him for not playing up to that high draft status, though Mahaffey is a two-time SL starter in centerfield, being elected by SIMBL GMs in 2005 and 2006.
Mahaffey breaks his All-Star teammate Jacobo Escarcega's record of hitting in 23 straight games set last season.
APRIL 13, 2008
BEND'S YOUNG GUN LOPEZ THROWS SIMBL'S 3RD NO-NO
23 Year-Old Ace Stymies Calgary's Potent Offense With Near Perfect Game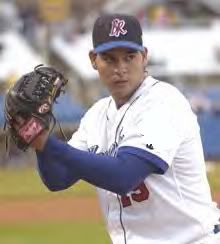 Bend's 10/7/8 rated 23 year-old stud SP Walter Lopez (above) is all locked in during the ninth inning of his no-hitter against Calgary. Lopez came one 5th-inning walk to David Padron from the first perfect game in SIMBL history. He becomes the third pitcher in the SIMBL's four season history to throw a no-hit gem.
Friday 4/13/2008: Walter Lopez dominates Calgary, throws NO-HITTER
BEND - Bend's right-hander Walter Lopez is a really great pitcher. And he once again showed his stuff while making history, blanking Calgary on no hits. David Padron spoiled the bid for a perfect game when he walked with no outs in the 5th inning. Lopez (2-0) struck out 8 and walked 4, throwing 67 of 114 pitches for strikes. 'I felt early that I was on top of my game. Fortunately I was able to keep that feeling the entire game.' Bend's rightfielder Lyle Mousseau stroked 2 hits in 3 AB. That was enough to support the brilliant performance of Lopez. Bend improved its record to 5-7, scoring 1 run on 4 hits.
New York's John McCasland was the last SIMBL pitcher to throw a no-hitter doing so last season. Brooklyn's Marcus Dinges threw the first no-hitter in SIMBL history back in late 2006.
Lopez is off to a sizzling start in 2008. He is 2-0 in three starts. Lopez has allowed only 10 hits and 1 run in 24.0 innings pitched and has a unimaginable 0.38 ERA.
OCTOBER 30, 2007
'WOLVES COMEBACK FROM 2-1 DEFICIT TO 'THREE-PEAT'
Augusta Can't Finish Off San Diego As Ryles Wins His 2nd Coveted Cup MVP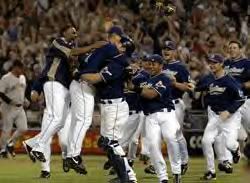 The San Diego Warewolves celebrate their third straight SIMBL Coveted Cup Championship as they came back from a two games to one deficit to defeat Augusta for the 2007 SIMBL title on real-life date July 16, 2007.
In a unprecedented three-way phone call between SIMBL Coveted Cup participating team owners Paul Ware and Steph Mabie, and with SIMBL Commish Christian DeMarco on the phone to verify authenticity and fairness, the San Diego Warewolves came back from a two games to one series deficit to win their third straight SIMBL Championship.
Augusta scored 9 or more runs in the first three games to go up 2-1 on San Diego. The 'Wolves bombed Spartans ace Roland Clark in Game One 12-9. Augusta came back behind rookie sensation Israel Mitchell to win Game Two 10-2 as they returned the favor and bombed San Diego ace Felix Murff to tie the series.
The Spartans won Game Three 9-3 behind Victor Myers solid pitching to go up 2-1 and looking forward to wrapping the series up at home. San Diego showed why they have won three straight rings by never giving up and won the next three games 4-1, 7-2 and 9-1.
San Diego's Daryl Ryles won his second SIMBL Coveted Cup MVP and finished the postseason hitting .524 with 7 HR and 19 RBI. Osvaldo Lueras finished hitting .448 with 2 HR and 16 RBI and Stephan Foster finished hitting .373 with 3 HR and 17 RBI for Augusta.
Ryles showed why he is regarded as the best player in the SIMBL by going 8 for 9 with 9 RBI in Games 5 and 6. He hit 3 HR and two doubles in those last two games and almost single-handedly finished off the Spartans himself.
Ryles hit two home runs in the series clincher and after the game sought out his nemesis, the SIMBL Commish, and promptly mooned him with what read "Who's Haack?" written on his buttocks. SIMBL league officials have stated to expect a major fine and possible suspension of Ryles' for his latest antics from DeMarco.
SEPTEMBER 19, 2007
CLEVELAND'S MCCASLAND NEAR PERFECT IN NO-NO AGAINST BELLE RIVER
'Blowtorch' Throws Second No-Hitter In SIMBL History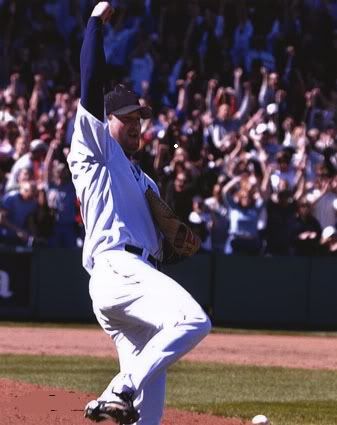 Cleveland ace John McCasland (above) celebrates the last out and became the second pitcher in SIMBL history to throw a no-hitter on September 19, 2007. McCasland came one walk short of throwing the first perfect game in SIMBL history.

BELLE RIVER - John McCasland had some fun again. REAL fun. Belle River hitters did not. Cleveland's right-hander fired a no-hitter in his 2nd shutout of the season. "Blowtorch" threw the second no-hitter in SIMBL history. McCasland struck out 6 and issued 1 BB, throwing 57 of 103 pitches for strikes. The final score of the game was 8-0. McCasland was one walk away from throwing the first perfect game in SIMBL history. Brooklyn's Marcus Dinges threw the first and previously only SIMBL no-hitter on September 25, 2006, almost a year to the day to McCasland's latest gem.
AUGUST 21, 2007
BENNETT'S AMAZING STREAK COMES TO A 'CLOSE'
SIMBL-Record Save Streak Ends At 46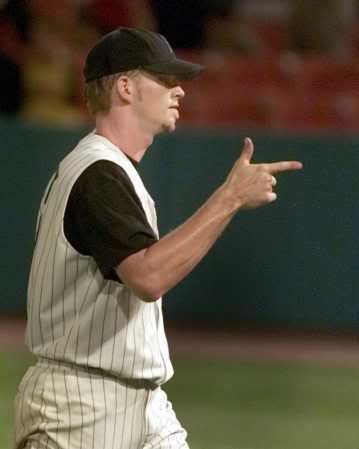 In what seemed would last forever, Columbus closer Aaaron Bennett's (above) amazing consecutive save streak was ended at 46 in 2007 SIM 20 as he blew a save but won the game against Marin.
Yes, he is human folks.
Columbus Thundercats closer Aaron Bennett's amazing SIMBL-record save streak has come to an end in SIM 20.
Bennett's consecutive save streak ends at 46 games and is a record that many SIMBL pundits believe will never be broken.
Bennett entered a game on August 21st, 2007 against Marin after Brandon Johnson put two Mountainmen aboard with a 4-1 lead.
Bennett, who has been virtually untouchable since last season when the streak started, allowed a 439-foot home run to last season's All-SIMBL outfielder Blake Hamilton, who signed with Marin GM Tom Hickman in last off-season's free agency.
Bennett though later picked up the win after the T-Cats rallied for a 8-4 win.
Despite his 46-game streak ending, Bennett promptly saved two more games the past SIM and has started a new streak already.
He is 35/36 in save opportunities this season and has now saved 48 of his past 49 games for Thundercats GM Stephanie Matthews.
Bennett, the reigning GM UL Fireman Of The Year, leads the UL in saves again this season with 34 and a 2.70 ERA.
He has saved 74 games the past two seasons and currently is one of only two (along with Carolina's Brian Nedd) closers to save 40 or more games in a season thus far in SIMBL history. Bennett has jumped to 7th on the all-time SIMBL save list with 85 career saves.
JUNE 8, 2007:
PORTLAND'S ESCARCEGA SETS NEW SIMBL HIT STREAK RECORD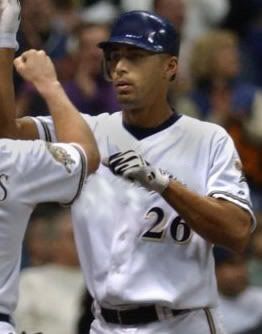 Portland Punisher's second baseman Jacobo Escarcega celebrates with his teammates after setting the new SIMBL hitting streak record of 23 games against Asheville in 2007 SIM 10.
(PORTLAND)- In a season that already has seen Los Angeles' Guy Gilliam's two-season old hitting streak tied by Cleveland's Stephan Mathias and Pocatello's Joel Sabatino's Union League 19-game hitting streak record tied by Toronto's Xavier Quijada in the past month, Portland second baseman Jacobo Escarcega finally topped them all.
Escarcega, Punishers GM Jon Vicic's second round pick (#44 overall) in the 2005 SIMBL Inaugural Draft, broke Gillham's streak on June 8, 2007 against Asheville. Escarcega went 2 for 3 in a 6-0 win over Tom Lifsey's Smokies. His 23-game hitting streak is currently the longest in SIMBL history.
OCTOBER 2006:
BANDY'S GAME 7 11TH INNING HIT GIVES SD A REPEAT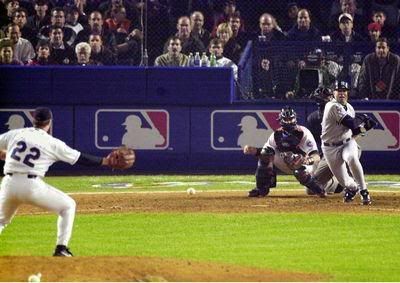 San Diego All-Star SS Hayden Bandy singles in the winning run in the 11th inning in Game 7 of the 2006 SIMBL Coveted Cup Championship Series against Pensacola. Bandy was named MVP in a classic and to be remembered SIMBL CS for years to come.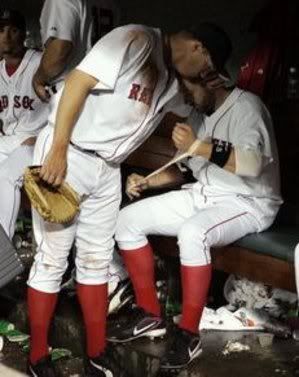 Penacola ace Thomas Leverett consoles Red Sox slugger Mike Chisholm after the Sox were heartbroken in losing Game 7 in the 11th inning of the 2006 SIMBL CS. The Sox were down 3 games to 1 in the series and came back as they had all season long. Pensacola trailed Augusta all season long in the UL East until the 2nd to last day of the season when they beat the Spartans with an amazing walk-off 9th inning rally to clinch the divison in dramatic glory at home.
RAO'S WILD PITCH IS SIMBL'S OWN 'BUCKNER MOMENT'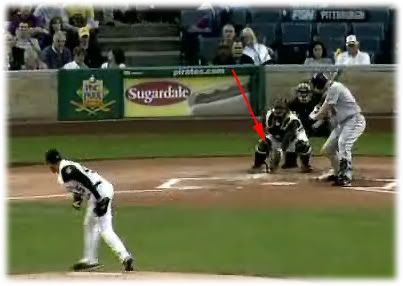 Chcago closer Banny Rao's wild pitch allows San Diego a 9th inning walk-off win to steal a win in the bottom of the 9th in the 2006 SL Championship Series and sealed the Hitmen's doom in the series. The wild pitch is likened to Bill Buckner's fabled error in the 1986 World Series by SIMBL pundits thus far in SIMBL history.
SEPTEMBER 2006:
BROOKLYN ROOKIE DINGES THROWS FIRST SIMBL NO-NO
Brooklyn rookie Marcus Dinges throws the last pitch of the first no-hitter in SIMBL history. It took almost two full seasons for a pitcher to throw a no-no in the league's history.
SD SPEEDSTER ESPITIA SHATTERS SIMBL SB RECORD
Speedy San Diego 2B Lucas Espita shatters Bill Evans' previous SIMBL SB record of 56. Espitia goes on to steal 74 bases in 2006 to set the SB plateau in the SIMBL.
JULY 2006:
PENSACOLA WINS LONGEST GAME IN SIMBL HISTORY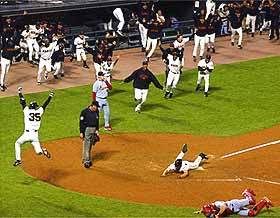 Pensacola's Mike Chisholm slides across home plate next to Calgary catcher Adam Wells at home to score the winning run in the bottom of the 21st inning to win the longest game in SIMBL history.
MARCH 2006:
DALTON'S ROTY KROUSE FIRST BIG NAME SIMBL PLAYER TO SUFFER CEI
After becoming the first rookie in SL history to be named SL Rookie Of The Year in 2005, Dalton's Christopher Krouse (above) becomes the first big name player to suffer the notorious career-ending injury in spring training 2006 ending a promising career for the young Dawgs centerfielder.
FEBRUARY 2006:
LOUDMOUTH RYLES BRINGS FIRST SIMBL SCANDAL
in an interview with Jacksonville beat writer Hank Henry that was supposed to be off-the-record but recorded by the nearby veteran SIMBL writer Lance Stanley, San Diego's outspoken Daryl Ryles blatantly accuses Belle River slugger Wilfredo Espana of using steroids. Ryles discovers that Stanley is recording the remarks and then goes after and threatens the 72 year-old "Grandfather Of The SIMBL" resulting in a $100,000 fine by SIMBL Commissioner Christian DeMarco. In typical Ryles defiance, Ryles later calls the fine "beer money". The scandal started a long-running fued between the Commish and the arrogant Ryles.
OCTOBER 2005:
SAN DIEGO WINS FIRST SIMBL COVETED CUP IN LEAGUE HISTORY
San Diego fans celebrate teh Warewolves 2005 SIMBL Coveted Cup Championship. The 'Wolves won a SIMBL record 106 games and defeated UL Champions Bend 4 games to 2 games in the inaugural 2005 SIMBL Coveted Cup Championship Series.
BLUMBERG UNCONSCIOUS DURING 2005 SIMBL PLAYOFFS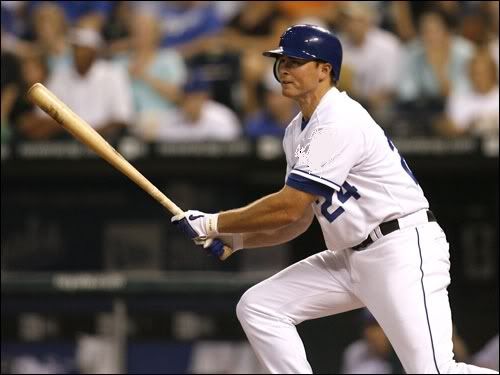 San Diego 1B Kenny Blumberg sizzled during the 2005 postseason and set records that may stand for years to come. "The Silent One", known for his quiet demeanor, blasted 9 homers and drove in an amazing 26 runs in just the 2005 LDS and LCS alone (10 games) in easily being named MVP in both series.
AGING ESPANA STILL SHOWS STUDLINESS IN 48 HR 141 RBI SEASON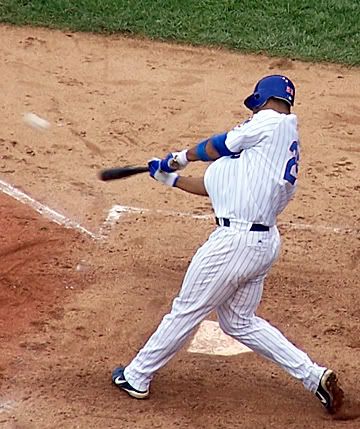 Belle River GM Andre Girard took some smack for selecting 38 year-old WIlfredo Espana and his high ratings with his #1 pick in the Inaugural SIMBL Draft, but Espana didn't disappoint. The veteran slugger set SIMBL records that have yet to be broken by slamming 48 home runs and driving in 141 runs in the 2005 first year of SIMBL play.
JULY 2005:
LA'S GILLHAM SETS SIMBL HITTING STREAK RECORD AT 22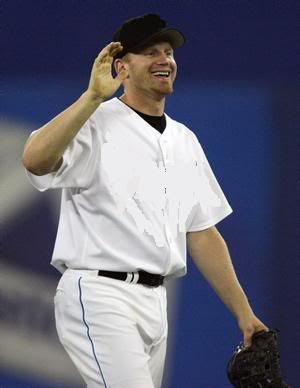 Los Angeles 1B Guy Gillham smiles after hitting safely in his 22nd consecutive game to set the SIMBL hitting streak record in the first season of SIMBL play.
MAY 2005:
'THE DEACON' IS BLURRY IN BLOWING AWAY 18 BATTERS
Pensacola ace Thomas 'The Deacon' Leverett fans 18 and allows 2 hits in a complete game victory to set the single-game strikeout record in the SIMBL and after two seasons of complete SIMBL play is the only pitcher in the league to fan 15 or more, doing it 3 times thus far.
APRIL 2005: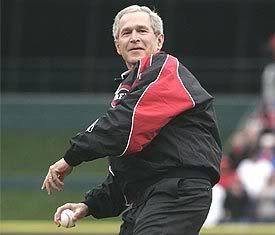 Love him or hate him, but the SIMBL followed tradition and invited President George W. Bush to throw out the first pitch in SIMBL history as the upstart league founded in September 2006 officially and finally started play with the 2005 SIM season on October 18, 2006.
RYLES FIRST PLAYER EVER TAKEN IN SIMBL INAUGURAL DRAFT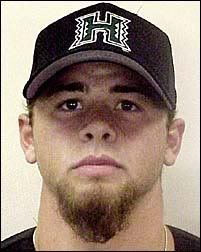 San Diego chooses 25 year-old 3B Daryl Ryles with the first-ever pick in the 2005 Inaugural SIMBL Draft that formed the league at it's inception. Warewolves GM Paul Ware ignored Ryles' past troubles with the law off the field to select the volatile but talented slugger #1 overall. The SIMBL's original 24 GMS all pitched in to help the monumental draft run relatively smoothly. The draft ran for exactly one long month going from September 17, 2006 to October 17